Nestled along the beautiful shores of South Carolina, Charleston welcomes visitors with its timeless charm and captivating atmosphere. For those who appreciate quality clothing and unique styles, this city offers a shopping experience that's simply delightful. Charleston's clothing boutiques are treasure troves, filled with carefully chosen pieces from local designers and well-known brands. In this special guide, we're revealing the best places to discover fabulous fashion in Charleston. Get ready to explore these inviting shops, where every piece you choose will be a cherished memory of your time in this charming city.
WOMENS
Julep
Founded by a mother/daughter duo, Julep aims to inspire women to express themselves through fashion by providing a curated collection of global brands and an engaging shopping experience. Here, you can find a highly curated collection of styles and brands that are not overly saturated in the market, making this a unique place to shop!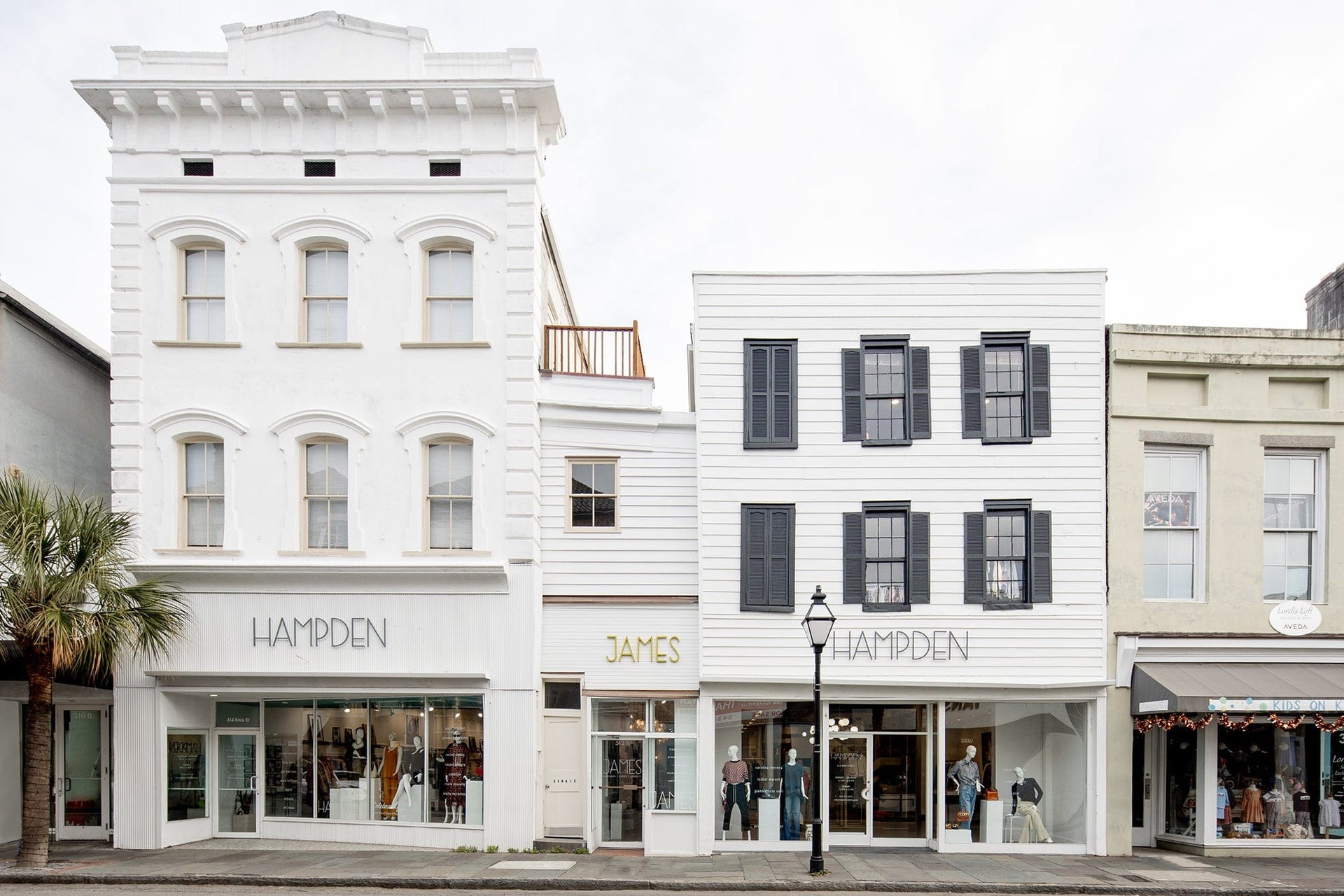 Hampden
Hampden stands out on Charleston's famous King Street with nearly 10,000 square feet of the most unique designer assortment of ready-to-wear, shoes, handbags, & accessories. Owner, Stacy Smallwood, travels the world to handpick each item to create a luxury fashion destination.
Beckett
Located in Charleston's vibrant Upper King Street corridor, Beckett's selection of new and emerging lines seeks to reflect both the easy glamour of Charleston and the unconventional edginess of Upper King Street.
Maris DeHart
Located in the French Quarter, Maris DeHart aims to appeal to women of all ages. Offering statement pieces, accessories like shoes, sunglasses, and handbags, as well as giftable items, Maris DeHart lives up to their motto of "accessible luxury."
Finicky Filly
Finicky Filly has been in their centrally-located King Street storefront for 20 years, offering traditional womenswear with a twist. Here, you can find a curated selection of clothing ranging from the classic little black dress to handmade jean jackets featuring designer scarf detailing, as well as accessories, jewelry, and handbags from designers like Tory Burch.
Sapphire Boutique
Just steps off of King Street is Sapphire Boutique, which features a selection of women's clothing, shoes, and accessories. This is a great place to shop for everyday pieces as well as the perfect look for an upcoming event like a wedding.
Two Cumberland
Two Cumberland offers something for everyone with women's clothing, accessories, and gifts at a variety of price points. From laid-back to elevated, on-trend to timeless, Two Cumberland's assortment is all imbued with Southern charm.
Gretchen Scott
Defined by bright colors and playful patterns, this boutique's mantra is "Laugh More, Gripe Less, Ignore Critics, Say Yes, Order Dessert, Love Life." The founder of the label, Gretchen, explains how she prioritizes the needs of her customers in her designs, saying "Clothing that packs easily, transitions from day to night, office to dinner or cocktails, carpool to the swimming pool. If we can provide that, with clean silhouettes and surprise elements – it's a home run."
MENS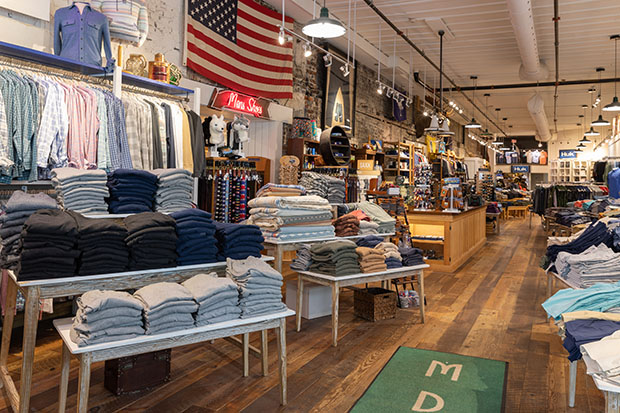 M.Dumas & Sons
Founded in 1917 by Mendel Dumas, M. Dumas & Sons has evolved into an iconic men's specialty retailer in historic downtown Charleston, S.C. Holding the title of Town and Country clothier of the Low-country, M. Dumas is known for its wide assortment of brands and products including Barbour jackets, Duck Head swim trunks, and more.
Jordan Lash
From casual clothes to dressier work attire, Jordan Lash offers a variety of diverse brands. Known for their exceptional customer service, this store is worth checking out if you are exploring King Street.
Grady Ervin & Co.
With their tag line: "Classic Clothiers to Gentlemen", and having built a reputation as one of the South's best clothing and sportswear stores offering not only products that are Ready-To-Wear, but 100% custom made and tailored from a wide variety of unique fabrics specifically made for you, Grady Ervin & Co is proud of their Old World history and service.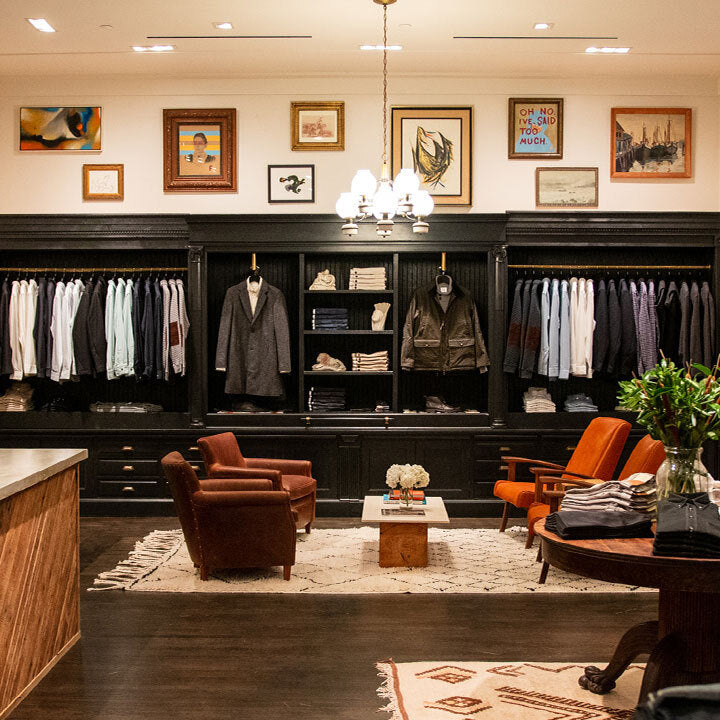 Billy Reid
Known for its southern influence and classic styles with luxury details like high-quality fabrics, Billy Reid is a great stop for elevated staples. While the price point may feel high, the quality of the pieces are made to last, with both men's and women's pieces.
Buck Mason
Buck Mason makes updated, modern American classics with a commitment to timelessness, quality, and the California roots of the brand. Stop in for refined and classic wardrobe staples for both men and women.