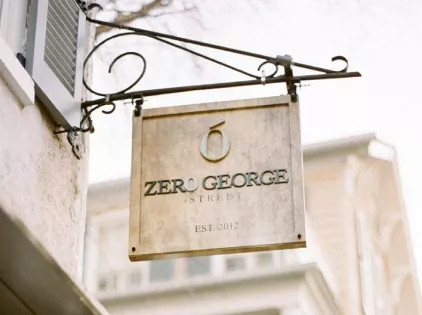 Patriots, pleats, preservation
Our location at Zero George Street, just two blocks from the Charleston harbor, is in Charleston's Ansonborough neighborhood, named after Captain George Anson (1697-1762) who, as a 26-year-old sailor in command of the H.M.S. Scarborough was sent to protect Charleston from pirates. Anson bought the land from his winnings at cards, and Ansonborough became Charles Town's first suburb, laid out on lands outside the walled settlement. George Street and our neighboring cross street, Anson Street, bear his name. Our hotel sits on two adjoining lots that were part of an Ansonborough tract known as the "Federal Green," owned by famous American patriot Christopher Gadsden, which was eventually divided into six wharf lots and 197 back lots around the turn of the 19th century.
Maison Du Pré
Between 1803-05, a French tailor named Benjamin Du Pré built a two-story wooden Federal Style house on a high brick basement along with an accompanying two-story brick outbuilding on Lot 4 (315 East Bay Street.) In 1874, Charles Seignious, the neighbor at 317 East Bay Street, purchased the property and brought the two adjoining lots together to form what became known as Maison Du Pré.
Zero George Now
Preservation + Restoration
Today, two of our five buildings, while still over 150-years old, are a relatively recent addition to Zero George Street. The two-and-a-half-story Charleston single house that fronts East Bay Street and the three-story Charleston single house lining George Street were once located at 40 and 38 Calhoun Street, respectively. They were moved as part of a preservation effort when their original site was slated to become a parking lot. Owners Dean Andrews and Lynn Easton of Easton Porter Group further invested in meticulous preservation and restoration of the hotel's five historic properties.